So… you want to be a competitive Hearthstone player right? Well, for that my dear reader there are several steps that I have taken the trouble to think about and that I think can help you based on what I see from other competitive players, I hope they help you:
Know the rules of the game and the different game modes: Before you start playing, make sure you know the rules of the game and the different game modes available in Hearthstone. If you are a new player, take this seriously and if you are an old player, it doesn't hurt to review it.
Learn the card mechanics and strategies: Learning the card mechanics and the different strategies available in the game is key to being a competitive player. There are many guides and tutorials available online that can help you learn the different mechanics and strategies, in fact, in my channel you can find a lot of this kind of material, although in Spanish, but for sure you will find something good.
Build a solid deck: Building a solid deck is key to winning games in Hearthstone. Make sure you know the cards available and build a deck that suits your play style, that has a good mana curve and that has a synergy for the games, where you can survive and fight one on one against the opponent without forgetting the win condition.
Practice and improve: repeat, repeat and repeat over and over again the deck you play with, practice makes perfect. Play as many games as you can to improve your skills, and strategies and get to know the deck so well that it practically becomes an extension of your game thinking. It is also useful to watch other players' games and learn from their moves, I recommend some Hype Horizen streamers like DracoCatt, Raindet, EmeraldBoa and Simonkeyisland.
Participate in tournaments and events: Tournaments and events are a great way to measure your skills and meet other competitive players. Participate in as many as you can to improve your skills and knowledge of the game. We here at Hype Horizen run tournaments with prizes every month, on the American and European servers, go to our discord and stay informed.
Keep up to date: Hearthstone is a constantly evolving game, so it is important to keep up to date with the latest expansions and updates to the game. This will allow you to adapt your strategies and decks to the changes in the game.
Start with these tips and add a little bit of patience to your desire to play competitively, I am sure you will have great results.
Like what you've read?
Support SoyaHS by purchasing some Hype Swag from their referral link. They get credit for the sale!
---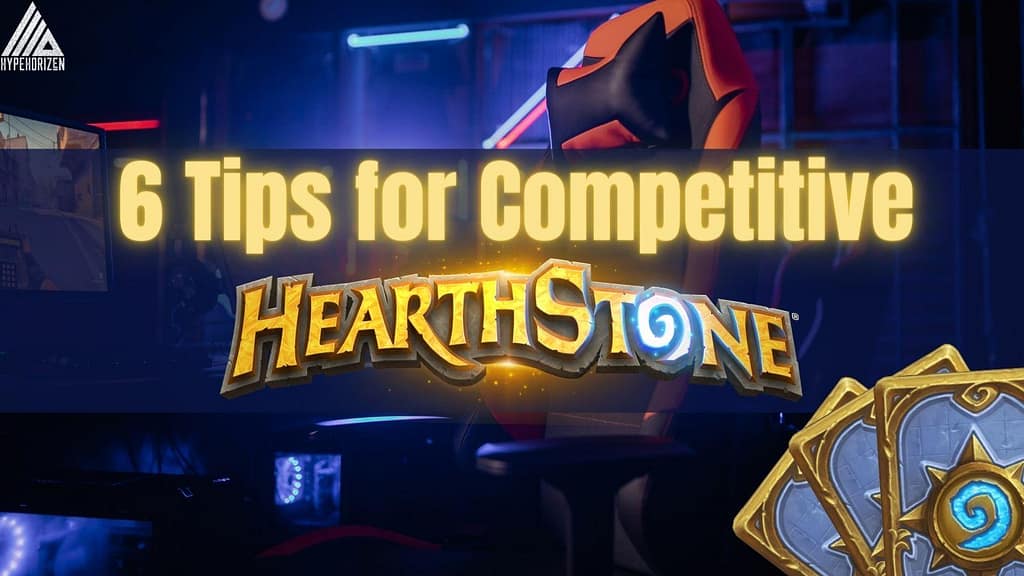 ¿Así que… quieres ser un jugador competitivo de Hearthstone verdad? Bueno, para eso mi estimado lector hay varios pasos que me he tomado la molestia de pensar y que creo te pueden ayudar basándome en lo que veo de otros jugadores competitivos, espero te sirvan:
Conoce las reglas del juego y los diferentes modos de juego: Antes de comenzar a jugar, asegúrate de conocer las reglas del juego y los diferentes modos de juego disponibles en Hearthstone. Si eres jugador nuevo, tomate esto en serio y si eres jugador antiguo, no está de más revisarlo.
Aprende las mecánicas de las cartas y las estrategias: Aprender las mecánicas de las cartas y las diferentes estrategias disponibles en el juego es clave para ser un jugador competitivo. Hay muchas guías y tutoriales disponibles en línea que pueden ayudarte a aprender las diferentes mecánicas y estrategias, de hecho, en mi canal puedes encontrar bastante material de este tipo, aunque en español, pero seguro algo bueno encontraras.
Construye un mazo sólido: Construir un mazo sólido es clave para ganar partidas en Hearthstone. Asegúrate de conocer las cartas disponibles y construir un mazo que se adapte a tu estilo de juego, que tenga una buena curva de maná y que tenga una sinergia para las partidas, donde puedas sobrevivir y pelear de tú a tú contra el oponente sin olvidarte de la condición de victoria.
Practica y mejora: repite, repite y repite una y otra vez el mazo con el que juegas, la práctica hace al maestro. Juega tantas partidas como puedas para mejorar tus habilidades, estrategias y conocer tan a fondo el mazo que prácticamente se convierta en una extensión de tu pensamiento de juego. También es útil ver las partidas de otros jugadores y aprender de sus movimientos, te recomiendo a algunos streamers de Hype Horizen como DracoCatt, Raindet, EmeraldBoa y Simonkeyisland.
Participa en torneos y eventos: Los torneos y eventos son una excelente manera de medir tus habilidades y conocer a otros jugadores competitivos. Participa en tantos como puedas para mejorar tus habilidades y conocimientos del juego. Nosotros acá en Hype Horizen manejamos torneos con premios todos los meses, en el servidor de América y en el de Europa, ve a nuestro discord y mantente informado
Mantente actualizado: Hearthstone es un juego en constante evolución, por lo que es importante mantenerse actualizado con las últimas expansiones y actualizaciones del juego. Esto te permitirá adaptar tus estrategias y mazos a los cambios del juego.
Empieza con estos consejos y súmale un poquito de paciencia a tus ganas de jugar de forma competitiva, estoy seguro de que tendrás grandes resultados.