It's almost that time of the year, the one where a new year comes to Hearthstone, there is a new expansion and 3 expansions rotate into wild with their respective mini-sets.
This year in Hearthstone, at least in my opinion, has not been the best if I compare it with other years, apart from the fact that they have played a little with nostalgia by bringing back the lich king even as a new class. The power creep, the mana cheat and an excessive abuse of the RNG are some of the things that made me not enjoy the game as much as in the past.
However, a new year and a new expansion are always reasons for joy and hope in a game that for me is one of the best ever made, and that can erase a bit of that bittersweet taste of this year.
Little is known about what is coming for Hearthstone, however, at some point in the third week of this month of March, there will be news about the new expansion, the new core set and the new year, which we are sure will come with some event.
But there are details that at least we do have for sure and that is that, there are three expansions that are going to wild, that is to say they will no longer be available in standard but you will still be able to play them in wild. Those expansions are: forged in the barrens together with its mini-set the wailing caverns, United in Stormwind together with its mini-set Mines of Death and Fractured in Alterac Valley together with its mini-set the Lair of Onyxia. These expansions, unless you plan to play wild, I do not recommend creating any card, at least epic or legendary because, as I said before, you will not be able to play any of these expansions in standard from April.
And why starting in April, you may ask? And the answer is right in front of us, it turns out that there is an estimated date for the new year to enter along with the new expansion, and that answer is on the shop site, specifically in the part of the tavern pass of the current expansion.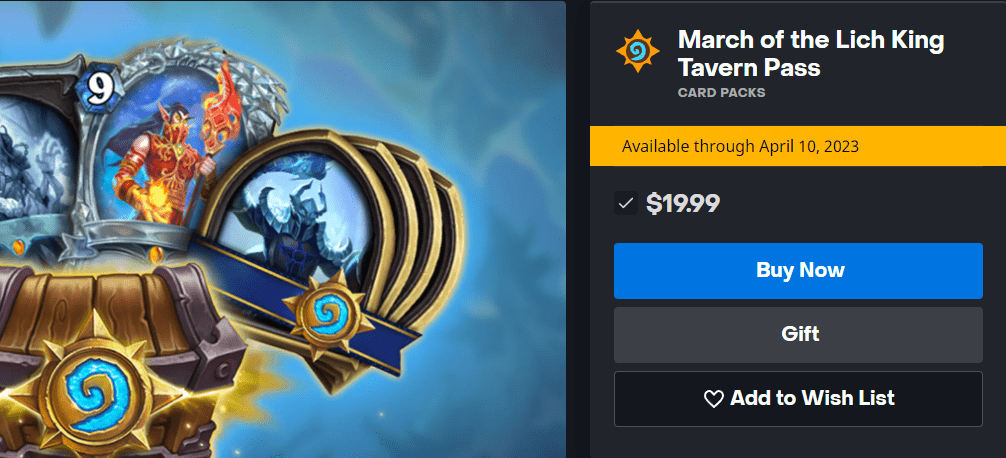 The date is April 10, 2023, theoretically until that date will be available everything that brings the tavern pass to claim, that date would be on Monday and everyone knows that the expansions always come out on Tuesdays, so we would be talking about Tuesday, April 11, 2023, at 11-12 PT or so could be with us, I hope, something beautiful and well done.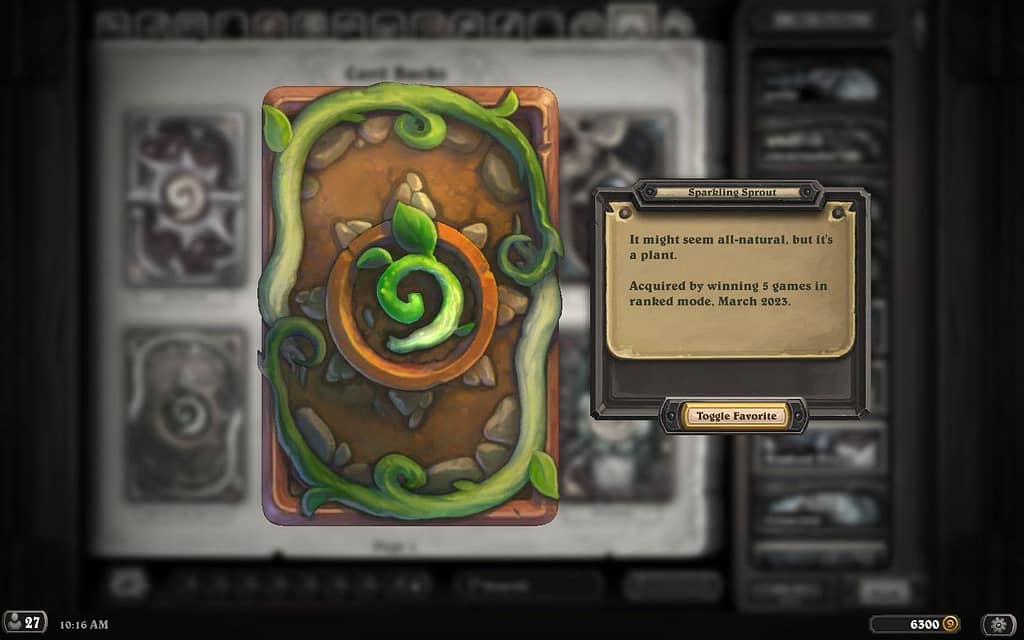 I for one have my theories, which may be a bit crazy, but it's fun to imagine what could come, like for example this card back, quite innocent, apparently.
But according to several friends (thanks Neil for the tip, credit to you), this back may be a clue that the next expansion may be about Pandaria, something that hasn't been done yet, since those leaves correspond to tea leaves that you can only get in Pandaria.
Personally, speaking a little bit about lore, I would like to see something related to the mogu shan, we have barely had 2 relevant cards with these characters.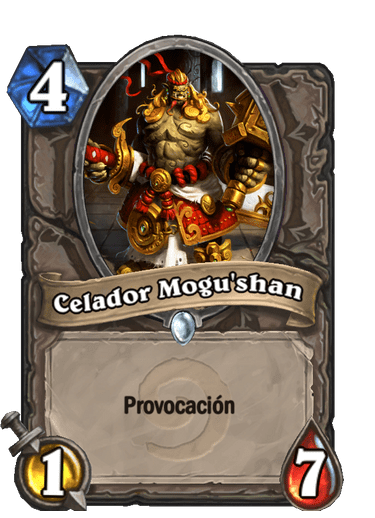 But if this is true, it is very likely that for the core set will return cards related to Pandaria, like the jade golems for example. If you want to talk about more theories, follow me on my socials and leave me here in the comments. What do you think is coming for this new year in hearthstone?
---
Ya casi es esa epoca del año, aquella donde llega un nuevo año a Hearthstone, hay una nueva expansion y 3 expansiones rotan a salvaje con sus respectivos minisets.
Este año en Hearthstone, al menos a mi parecer no ha sido el mejor si lo comparo con otros años, mas alla del hecho de que han jugado un poco con las nostalgia al traer de vuelta al rey exanime incluso como nueva clase. El power creep, el mana cheat y un abuso desmedido del RNG son algunas de las cosas que me han hecho no disfrutar tanto el juego como en otrora.
Sin embargo, un nuevo año y una nueva expansion siempre son motivos de alegria y de esperanza en un juego que para mi es uno de los mejores jamas hechos y eso puede borrar un poco ese sabor agridulce de este año.
Poco se sabe de que es lo que viene para Hearthstone, sin embargo, en algun punto de la tercera semana de este mes de marzo, habran noticias acerca de la nueva expansion, el nuevo set esencial y el nuevo año, que estamos seguros vendra con algun evento.
Pero hay detalles que al menos si tenemos seguro y es que, hay tres expansiones que se van a salvaje, es decir ya no estaran disponibles en estandar pero podras seguirlas jugando en salvaje. Esas expansiones son: forjados en los baldios junto con su minikit las cuevas de los lamentos, unidos en ventormenta junto a su minikit minas de la muerte y divididos en el valle de alterac junto a su miniset la guarida de onyxia. Estas expansiones, a menos que tengas pensado jugar salvaje, no recomiendo crearse ninguna carta, al menos epica o legendaria porque, como dije anteriormente, no podras jugar nada de estas expansiones en estandar a partir de abril.
Y por que apartir de abril te preguntaras? y la respuesta la tenemos de frente, resulta que hay una fecha estimada para que entre el nuevo año junto a la nueva expa, y esa respuesta esta en la pagina de la tienda, especificamente en la parte del pase de taberna de la expansion actual.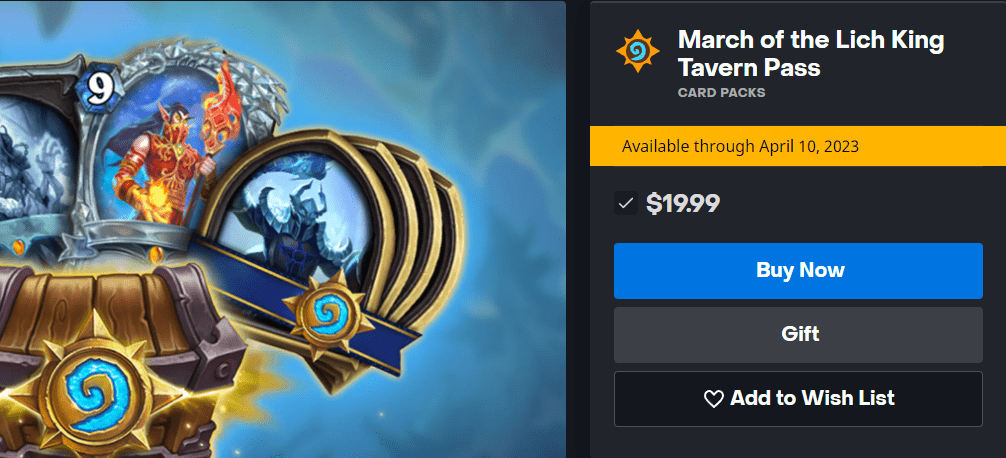 La fecha es 10 de abril de 2023, teoricamente hasta esa fecha estara disponible todo lo que trae el pase de taberna para reclamar, esa fecha sería el dia lunes y por todos es conocido que las expansiones siempre salen los días martes, asi que estariamos hablando de que el martes 11 de abril de 2023, a las 11-12 PT mas o menos podria estar con nosotros, espero, algo hermoso y bien hecho.
Yo por mi parte tengo mis teorias, que pueden ser un poco locas pero es divertido imaginarse que puede venir, como por ejemplo este dorso de carta, bastante inocente al parecer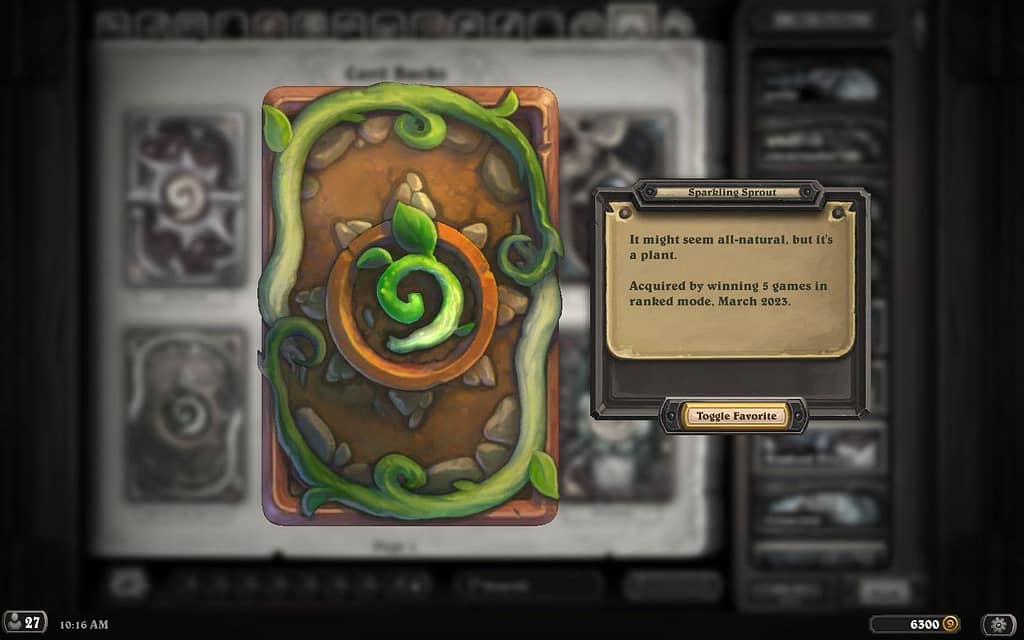 Pero segun varios amigos (gracias Neil por el dato, el credito es tuyo), este dorso puede ser una pista de que la proxima expansion puede ser sobre pandaria, algo que aun no se ha hecho, ya que esas hojas corresponden a hojas de te que solo se consiguen en pandaria.
Personalmente, ya hablando un poco de lore, me gustaria ver algo relacionado a los mogu shan, a penas hemos tenido 2 cartas relevantes con estos personajes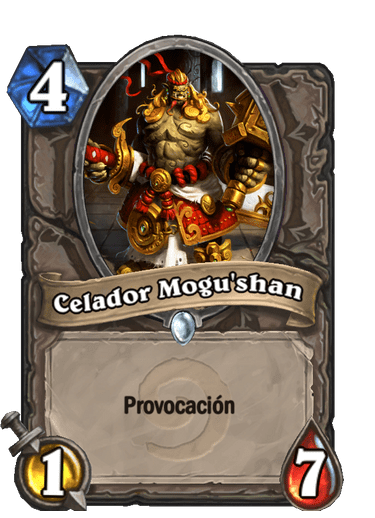 Pero de cumplirse esto, es muy probable que para el set esencial regresen cartas relacionadas a Pandaria, como los golems de jade por ejemplo. Si quieres conversar acerca de mas teorias, sigueme en mis redes y dejame aqui en los comentarios, que crees que vendra para este nuevo año en hearthstone?