📢 Join TNTHYPE Side Events and Win Card Packs! 🎮🎁
🔥 Are you ready for an exhilarating gaming experience? Introducing TNTHYPE Side Events, the ultimate challenge for Hearthstone players of all levels! This is your chance to shine and claim rewards.
🌟 How does it work? It's simple!
1️⃣ Sign up for a Mobius account: Visit the website playmobius.com and create your Mobius account to get started. It only takes a few minutes, and you'll unlock a world of exciting opportunities.
SIGN UP HERE: https://playmobius.com
2️⃣ Set up a Mobius activity and win card packs! Create a 4 person best of three (B03) Single elimination activity on the Mobius platform and just play! Every individual who wins in a 4 person activity will receive 2 card packs! Prizes also stack, so the more you play the more you can earn.
3️⃣ Start your own event: Take the reins and become the mastermind behind your very own TNTHYPE Side Event. Set the rules, invite your friends or fellow gamers, and get ready for an adrenaline-fueled battle.
4️⃣ Compete for glory: Show off your skills and strategy as you face off against other passionate gamers in the TNTHYPE Side Events. Rise to the top and prove yourself as the ultimate champion.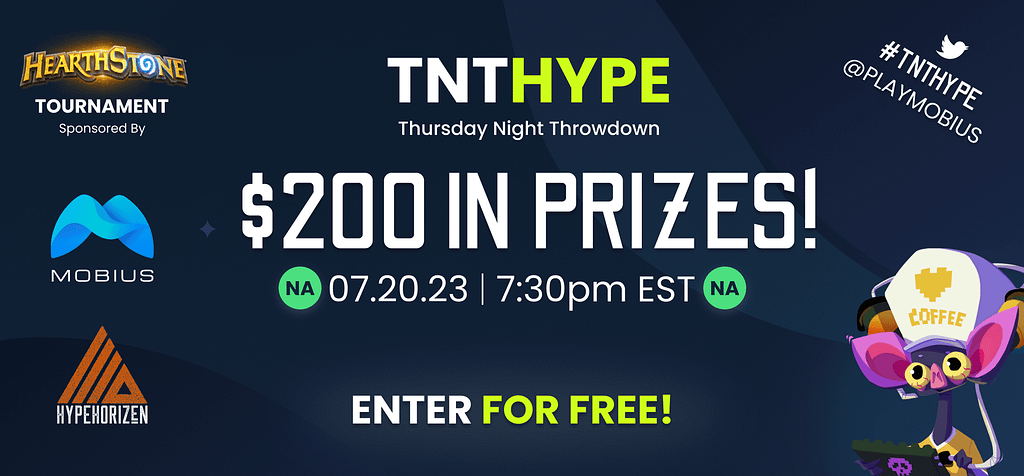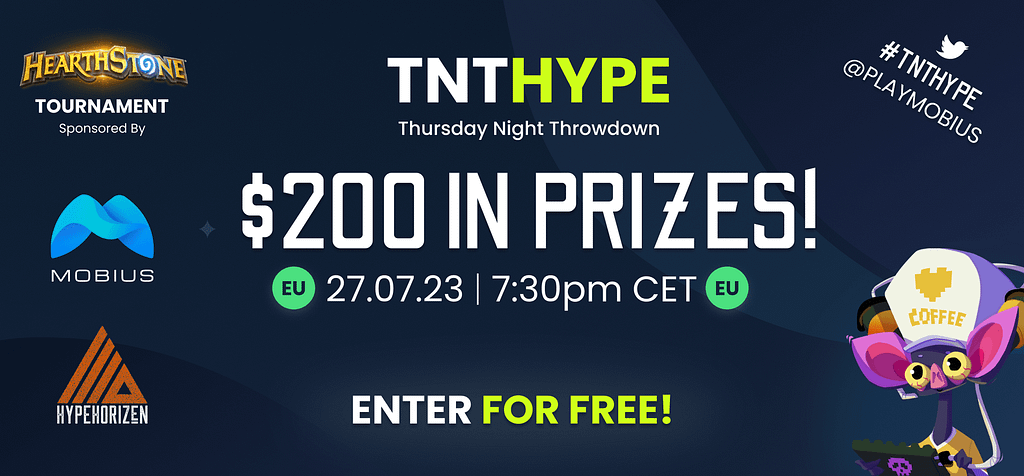 View Giveaway
Winner announced in the HypeHorizen Discord on July 22, 2023. To claim your prize you must be a HypeHorizen Discord Member as well as have a Mobius Account.
🏆 Claim your rewards: Winners of each TNTHYPE Side Event will be rewarded with exclusive card packs! These packs hold the key to unlocking powerful game enhancements and rare collectibles. But that's not all…
⚡️ Don't miss out on the action! TNTHYPE Side Events are happening throughout the TNTHYPE season. Join the gaming revolution and take your gaming skills to new heights.
👉 Visit our website and create your Mobius account today to start your TNTHYPE Side Event journey. Prepare for epic battles, exhilarating victories, and a chance to claim amazing card packs!
🎮 TNTHYPE Side Events: Where gamers become legends. Let the games begin! 🔥
Join the Mobius Discord Here – Mobius Discord Invite