Introducing Talk of the Tavern
A Hearthstone-themed panel show! Once per expansion, six panelists will discuss a variety of topics, and compete in panel games for a mystery prize! Watch the inaugural episode live on Twitch on May 13th at 3PM Eastern, or on YouTube a few days later!
What is Talk of the Tavern?
Talk of the Tavern is a new variety show featuring a panel of six different personalities from the game's community. It has two parts: A discussion segment where the panelists discuss and debate a variety of topics about the game and the community, and a competition segment where the panelists compete in various party games. At the end of the show, one panelist will walk away grand prize.
About the Host
"I grew up watching comedy panel shows like QI and 8 Out of 10 Cats. When I saw people like trainwreckstv and Dylan Burns doing debate panels on Twitch, I thought it would be fun to try and merge the two ideas and put a Hearthstone twist on it" says Swaguar, the show's creator and host. "The community has a-lot of podcasts (Coin Concede, Born to be Wild) and interviews (Heart to Heart), but I think there's untapped potential for a more tightly-directed comedy show featuring the plethora of great Hearthstone personalities."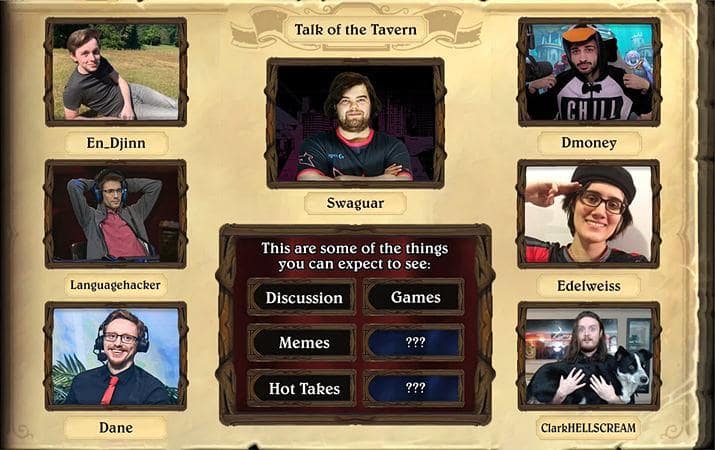 Swaguar says he's planning on doing one episode for every Hearthstone expansion. "I want it to be a big event. I want it to be something people look forward to when a new Hearthstone expansion is announced. I want a new episode of the show to be one of the things they get hyped about the expansion's release." The inaugural episode will feature HypeHorizen members Dmoney and ClarkHELLSCREAM, as well Languagehacker, Dane, Edelweiss and En_Djinn. It will air on Friday, May 13th on Swaguar's Twitch channel, and will be available on his YouTube channel a couple days later. It